Katie - Her Life
Katilyn Whicker was born in Atlanta, Georgia, on 19 January 1996. She had Treacher Collins Syndrome (TCS), but didn't let that stop her from being a hairdresser, veterinary technician, international speaker, author and proponent of children with differences. She spoke out against bullying, and loved little children and dogs to a fault. Our hope is that her legacy will continue forever, because her message was:



SPREAD KINDNESS LIKE CONFETTI!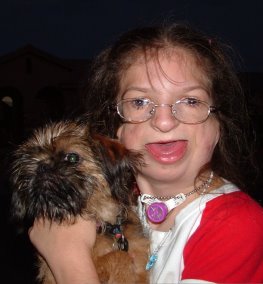 assignment
Visit this link to see some hilarious and touching videos of Katie's life. She had the most fun, creative and adventurous spirit of anyone in the family. You'll be sure to smile with these candid looks at her cute personality.
track_changes
Katie loved photography. She had to have the latest, greatest iPhone with the very best camera so she could endulge in this hobby. She also had a Canon 35mm reflex camera that she loved to try out. Catch some of these great shots!
Katie's Accomplishments
In 2014 Katie graduated from Dixie High School, Home of the Flyers, in St. George, Utah. Despite her health issues and facial differences, she ran for student body officer, joined the track team, was the Senior Ball Queen, worked with the Drama Department, and was part of Air Force JROTC. After high school, she graduated with a cosmetology and hairdressing license from Paul Mitchell School, and then pursued an education as a veterinary technician. She was a model for Gigi Pip Hats, and a spokesperson for The Care Project. She also spoke across the nation to educate teens and parents about how to prevent bullying, and in 2019 won the Ambassador Award from the Utah Speech Language Hearing Association. Her example of compassion, enthusiasm, courage and enthusiasm was contagious among the Craniofacial Children's Association (CCA).
---