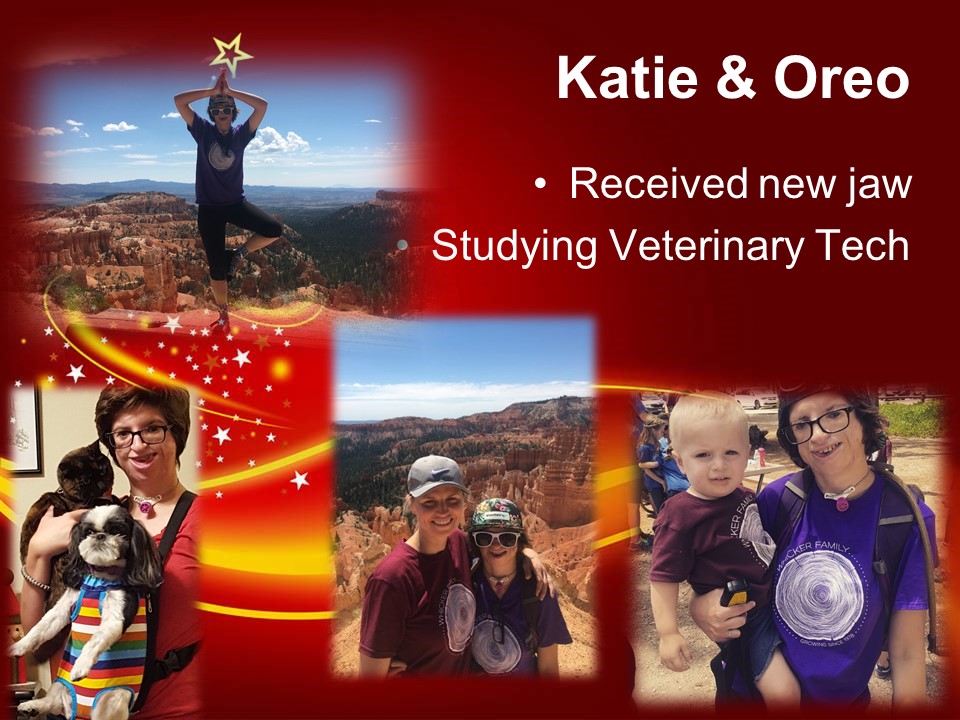 Click couples' names for individual updates
Katie

Oh, this has been a tough year for Katie! It started out 3 days before last Christmas (2016), when she underwent a very difficult bilateral jaw bone insertion, using her own rib bones (2) at Carolinas Med Center in Charlotte. The reccovery was tough, and the new jaw ended up breaking in March, and had to be revised in May, this time adding her own hip bone to the new jaw. She has been in pain since, and had to quit her job at Snowbird ski resort.

Katie had extensive dental surgery just before Christmas this year, to try and eliminate any pain caused by tooth decay, which was exacerbated by having her jaw wired shut for 6 weeks at a time after EACH of the jaw surgeries! Not a pleasant way to go, especially when you love food as she does!

Despite the trials, Katie is 1/2 way through her Vet Tech program at school, where she plans to become certified by May 2018 to begin her new career working with animals (which is the PERFECT job for this true-blue animal lover!). She maintains her positive outlook on life; we're hoping she can go forward with less pain, and fulfill all the dreams of her life. We love KT!